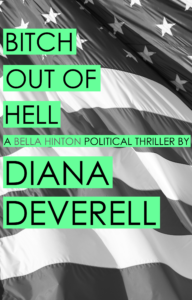 Preorder Bitch Out of Hell today at the advance sale price of $2.99! Your ebook will arrive on release day, January 19, when this bargain ends.
Seven years ago, a high-end private security company hired Bella Hinton to stop their bodyguards murdering innocent bystanders while protecting diplomats abroad.
A career security pro, Bella was keeping Americans safe before most of those guards were born. She cleaned house at the company and changed the cowboy culture.
But now, a new team has taken over in Washington. Diplomacy is out. Mercenary armies are the new profit center for the greedheads in charge. And Bella's in their way.
She survived the incident last year in Dhaka. But has she got what it takes to make it out of DC alive?
Click on the book jacket or  follow this universal link to your favorite online retailer, order Bitch Out of Hell before January 19, and pay less than half the regular price.