Hang onto your hat!
This new magazine will take you on a roller-coaster ride of thrills, chills, and knife-edge tension. The pages are filled with betrayals, assassinations, and unlikely partners across time, borders, and history.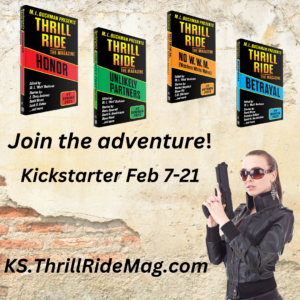 The Thrill Ride Magazine Kickstarter is filled with exclusive offers for backers.
Writer/Editor/Publisher Matt Buchman collected more than fifty original stories from thirty authors across five countries, and gathered them together in four themed volumes.
The contributions came from Derringer Award winners and finalists, submarine officers, NYT-, USA-Today-, and Wall-Street-Journal-bestsellers, and just plain old every day great authors.
We travel from ancient Israel to the edge of tomorrow, from Asia to the streets of Victorian London, into the sky and under the water.
All of us involved in this project invite you to join in the fun.
Click on the image above or follow this link to the Kickstarter page to see what you can get in return for your pledge in addition to all this great reading.
I'm delighted to have three short stories appearing during the year ahead in Thrill Ride Magazine.
"Under the Influence of Elmore Leonard" is in Unlikely Partners. Casey Collins, heroine of my international thriller series, is pulled off her job at the Warsaw embassy to assist with an international conference in Berlin during the summer of 1985. The junior diplomat discovers that being an unknowing eyewitness to Cold War intrigue while also under the spell of a master storyteller, can lead a woman into thriller territory.
"Spooked" is in No W.W.M. (Western White Males). I couldn't resist writing a thriller story set in El Salvador in the fall of 1985. Twenty-four-year-old Casey volunteers for the danger posting as her first overseas assignment because she wants to see for herself what's happening in the war-torn country.
She gets her chance to investigate when another woman invites her on a plane ride to the eastern edge of El Salvador. Where Casey hears enough to get herself in real trouble.
"Rotten Apple" is in Betrayal. My young heroine sets out on foot along some scary streets north of West 120th in Manhattan during the darkest hours of a December night in 1971. What  could possibly go wrong?
These three stories have been in my head for years. I'm feel that I finally found the right home for them and the right timing. And I'm thrilled to be sharing the tables of contents in these issues with so many great writers.