My first venture to the dark side of short fiction is in the current issue of Switchblade: An Anthology of Noir.  Let me take you to the seamier side of Harrisburg, Pennsylvania where we watch a wager with life-or-death stakes play out in "Organ Trade Off".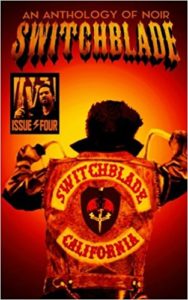 The editor promises you'll find fourteen stories that are "twisted and barbed like your ex; sharp and deadly like the femme fatale you know you can't resist—it ain't your grandma's Ellery Queen."
You can buy Switchblade in paperback or as an ebook from Amazon.